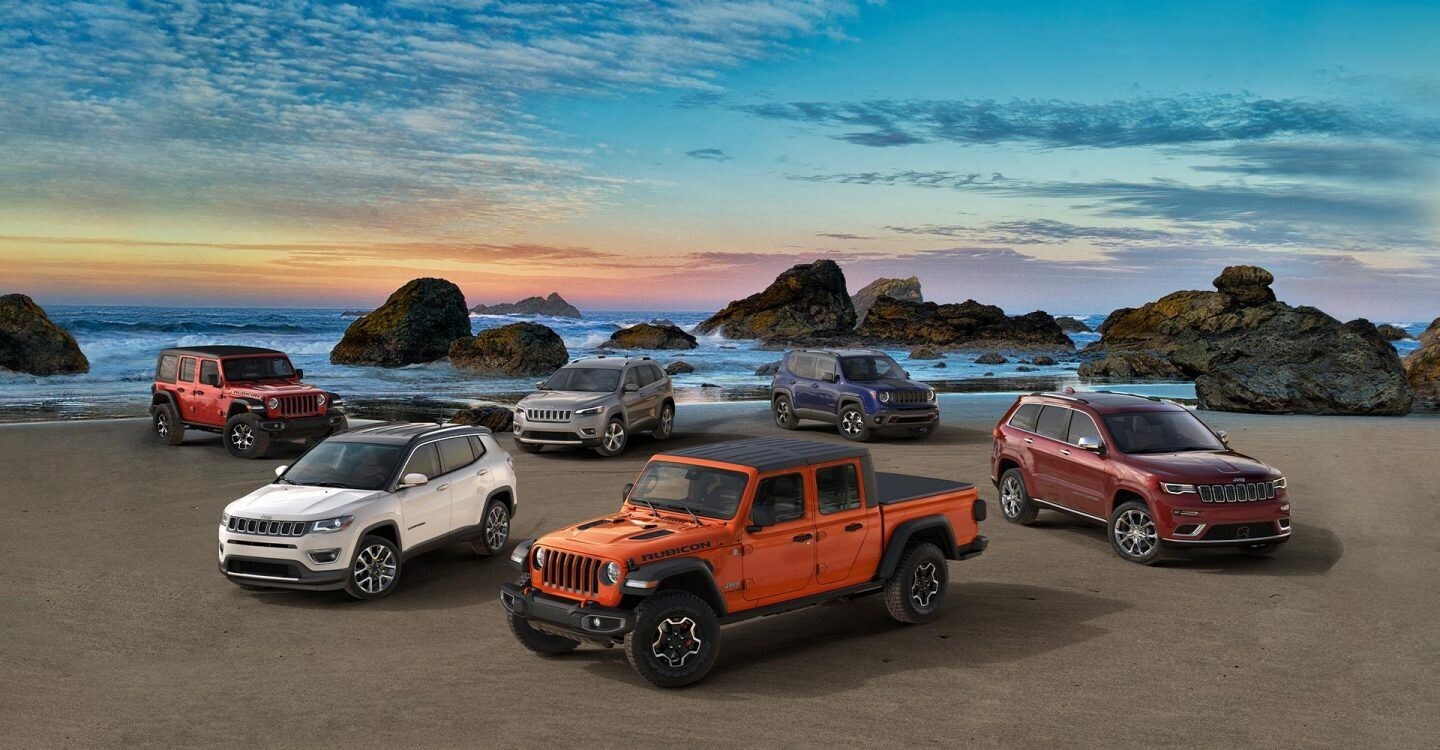 When it comes to finding the best Jeep dealership "near me" in Vidalia, GA, Woody Folsom CDJR is second to none! We're proud to offer one of the largest inventories of new Jeep vehicles, including: 
Jeep Wrangler 
Jeep Compass 
Jeep Grand Cherokee 
Jeep Cherokee 
Jeep Renegade 
Jeep Gladiator

Browse Jeep Wranglers for Sale near Me
The new Jeep Wrangler is the coveted MotorTrend SUV of the Year. From the factory, the Wrangler comes ready to help you explore new roads and dominate trails. Woody Folsom CDJR is home to a large selection of both 2-Door and 4-Door Jeep Wranglers for sale in Vidalia, GA, including: 



Wrangler Sport 
Wrangler Sport S 
Wrangler Sport Altitude 
Wrangler Sahara 
Wrangler Sahara Altitude 
Wrangler Rubicon
Wrangler MOAB

Find New Jeep Compass SUVs for Sale near Me
Boasting the most technology and connectivity in its class, the new Jeep Compass is a compact SUV that is big on value. You can choose between the Sport, Latitude, and Limited Jeep Compass. At Woody Folsom CDJR, we offer one of the largest selections of Jeep Compass SUVs for sale in the Southeast, including: 



Compass Sport 
Compass Latitude 
Compass Upland 
Compass Altitude 
Compass Limited 
Compass Trailhawk 
Compass High Altitude

Find New Jeep Grand Cherokees for Sale near Me
The Jeep Grand Cherokee is the most awarded SUV and designed to stand out from the crowd. It sports a luxurious interior, a stunning exterior, and the ability to go off road and create new adventures. Woody Folsom CDJR offers the full lineup of Jeep Grand Cherokees for sale, including: 



Grand Cherokee Laredo 
Grand Cherokee Upland 
Grand Cherokee Altitude 
Grand Cherokee Limited 
Grand Cherokee Limited X 
Grand Cherokee Trailhawk 
Grand Cherokee Overland 
Grand Cherokee High Altitude 
Grand Cherokee Summit 
Grand Cherokee SRT 
Grand Cherokee Trackhawk

Browse Jeep Cherokee SUVs for Sale ear Me
With the ability to achieve up to 31 HWY MPG, the Cherokee is your everyday SUV for every adventure. You can browse the entire selection of new Jeep Cherokee SUVs for sale in Vidalia, GA, including: 



Cherokee Latitude 
Cherokee Latitude Plus 
Cherokee Altitude 
Cherokee Upland 
Cherokee Trailhawk 
Cherokee Limited 
Cherokee High Altitude 
Cherokee Overland

Browse Jeep Renegade SUVs for Sale near Me
The newly-redesigned Jeep Renegade is brimming with value and personality at every angle. You'll be treated to a stunning interior and some of the most advanced safety features available. And with the Renegade's go-anywhere, do-anything attitude, it offers the off-road capability you need to explore new roads. You can find the complete lineup of new Jeep Renegade SUVs for sale at Woody Folsom CDJR, including:



Renegade Upland 
Renegade Sport 
Renegade Latitude 
Renegade Altitude 
Renegade High Altitude 
Renegade Trailhawk 
Renegade Limited

Shop Jeep Gladiator Trucks for Sale near Me
The all-new Jeep Gladiator empowers you to not just push boundaries, but erase them! This fully-capable mid-size truck delivers Best-in-Class Towing Capacity, Best-in-Class Payload, and the off-road capability you've come to expect from every Jeep vehicle! Woody Folsom CDJR is the best Jeep Gladiator dealership in the Southeast - offering all trims, including: 



Contact the Best Jeep Dealership Near Me in Vidalia, GA
When it comes to finding the complete lineup of Jeep vehicles, Woody Folsom Chrysler Dodge Jeep Ram will not be beat! Contact us today to find your next new Jeep vehicle.